Next open training workshops, September 2021
(If you can't wait, contact me about in-house training.)
Join Les Robinson for this safe, friendly event to expand your abilities to facilitate happy, productive gatherings, large and small (real life AND online).
Via ZOOM: Over 2 fun mornings, dates TBA September 2021
"I really am gobsmacked at how well it's gone. It's been an amazing day."
- Sustainability educator, Victoria
[Full details][Book here] Contact Les to ask about this training.
Discounts are available, see below.
Devise projects that excite communities to do things they've never done before.

Les Robinson leads this insight-filled project incubator! Bring along a tricky environmental, social or health problem affecting groups, populations and organisations. Leave with an innovative prototype change project ready for its first public outing.

Via ZOOM: Over 2 fun mornings, dates TBA September 2021

"This workshop was an absolute turning point. It helped us rethink our approach and move forward with absolute clarity and conviction."
- anti plastic straw campaigners, NSW

[Full details] [Book here] Contact Les to ask about this training.

Discounts:
• Self-funded: 20% discount.
• Community organisations: 20% discount
• Climate action projects: If you and your buddies are working on a climate action project, you all receive a 50% discount.
Facilitating change
Workshops can be great for enabling change. But what's the ideal workshop plan?
Download here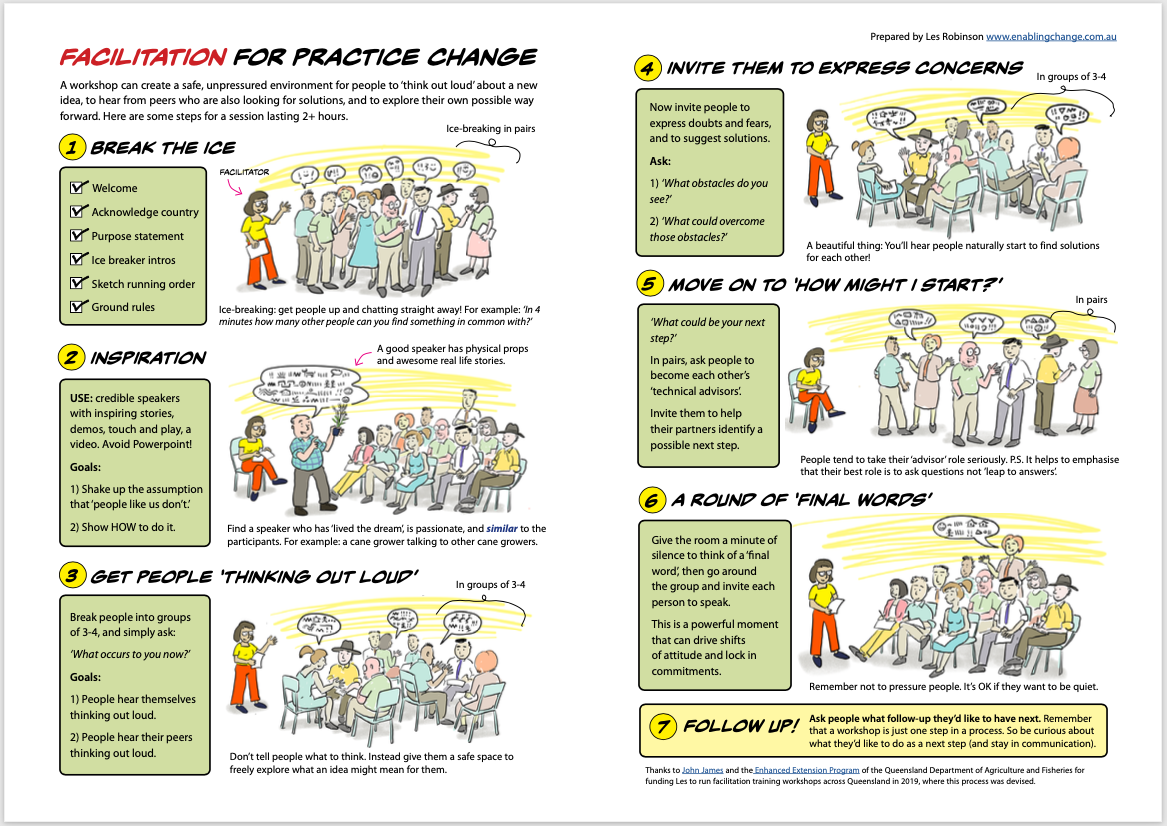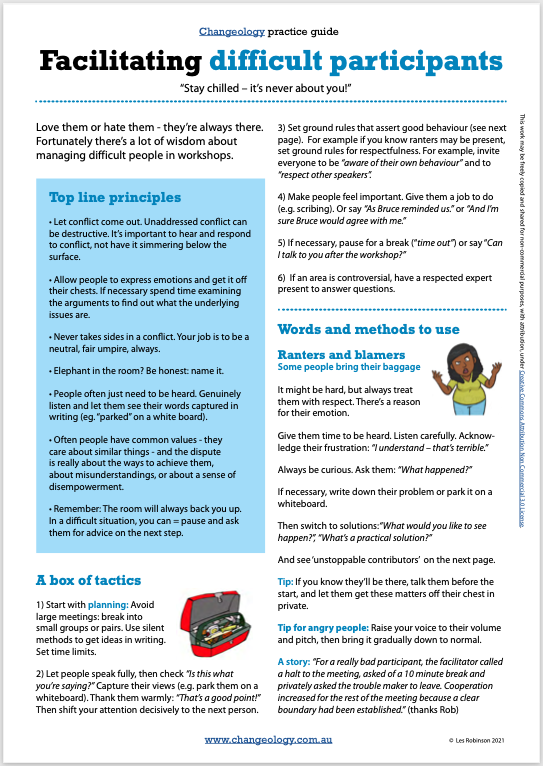 Difficult participants
Yep... love 'em or hate 'em, difficult workshop participants are a fact of life. Fortunately there's a lot of ways to happily manage even the most cantankerous. This 2-page guide distills the practical wisdom of folks in Les's Facilitation Skills workshops.
Download here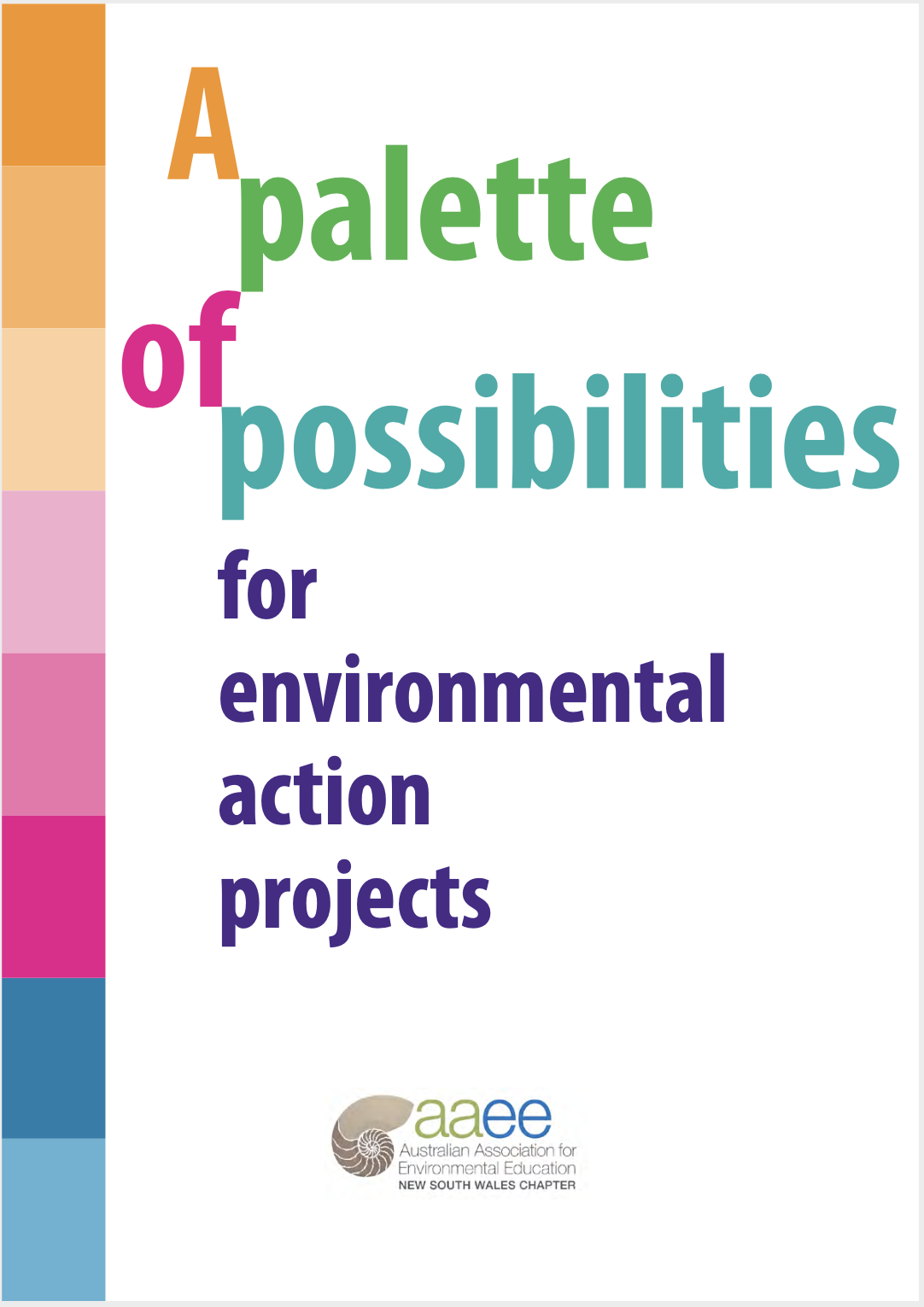 Everything strategy
I'm proud to share this succinct, comprehensive guide to designing change projects. It has the most vital behaviour change strategies and design processes, all illustrated with colourful examples which show how they're within the capacity of even the most humble project.
Download here (it's free).

(If you're attending a Changeology workshop, this is pre-reading!)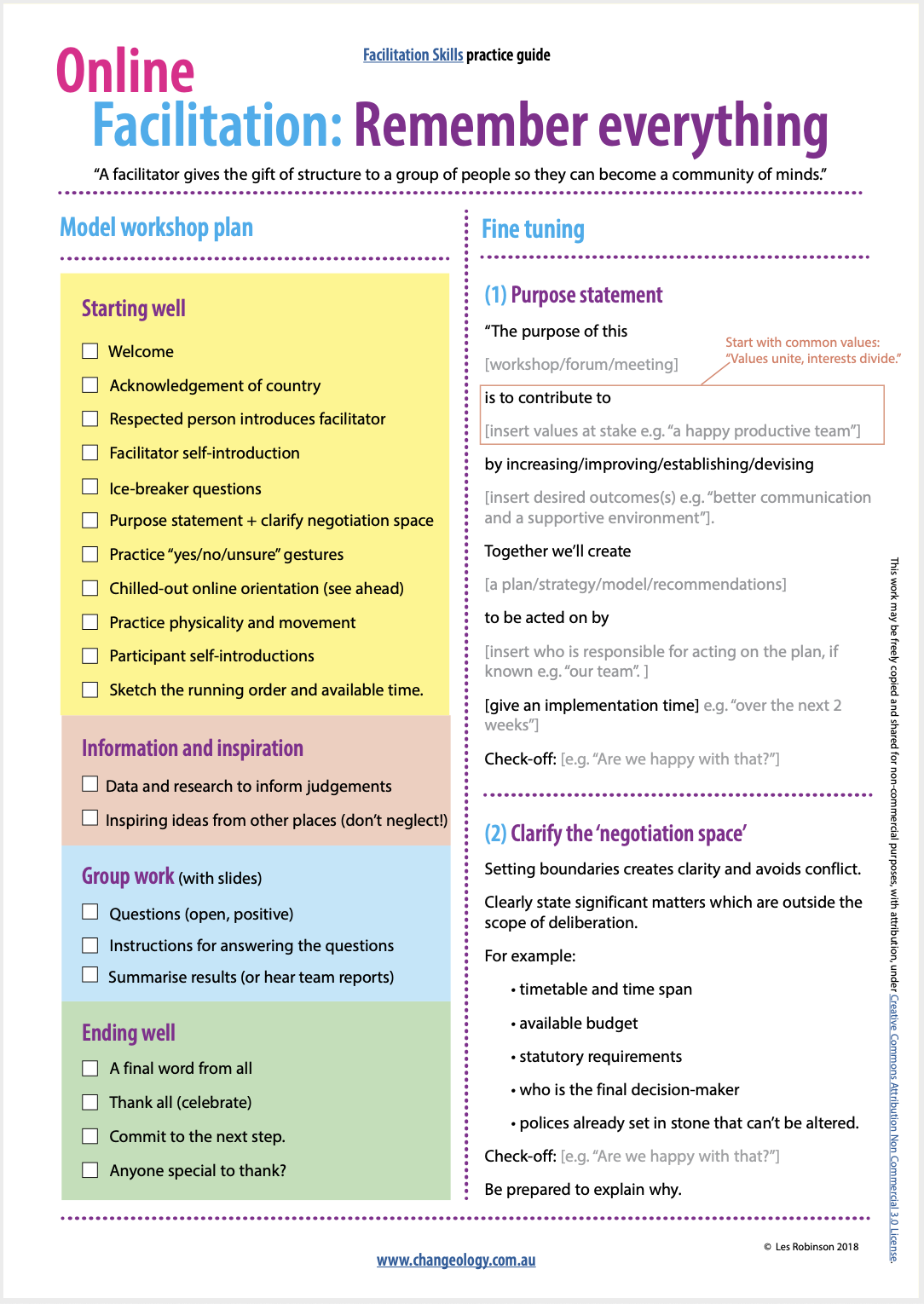 Remember everything ONLINE
Taking a workshop or meeting online isn't that hard. It just needs rehearsal. And some special planning, especially about orienting your participants in the new space and setting ground rules - the more physical your participants are, the happier they'll be! Here's a handy guide to important stuff never to forget!
Quote
de joy

"I am neither especially clever nor especially gifted. I am only very, very curious. "
- Albert Einstein